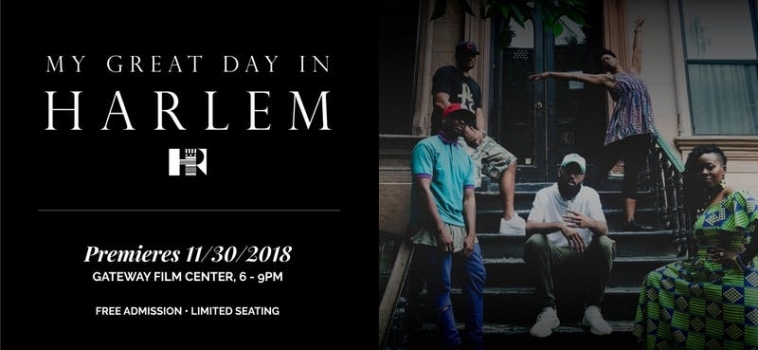 My Great Day in Harlem Documentary Premiere
By Hailey Stangebye
As a part of our citywide celebration of the 100th anniversary of the Harlem Renaissance in Columbus, we took five local, African American artists from Columbus to Harlem. On that journey, they exchanged ideas, made new connections and gained a deeper understanding of the Harlem Renaissance and its impact on our world today.
We captured each treasured moment from that trip to create a powerful documentary. On Friday, Nov. 30, at 6 p.m., the My Great Day in Harlem documentary will premiere at the Gateway Film Center.
This documentary is a multi-part series that follows the journey of each artist, all of whom are masters in their respective creative fields: Tripp Fontane (poet), Samara Tillman (fashion designer), Percy King (visual artist), Lori Lindsey(dancer) and Jay Swifa (musician). Each section of the documentary traces the journey of an individual artist and showcases their unique experience in Harlem.
"The screening of My Great Day in Harlem is more than a film; it's an opportunity to connect with and support local, black artists. Each segment is inspiring, powerful and particularly important in modern Columbus," says Chris Jones, COO at Warhol & WALL ST.
In addition to the screening, the event also features live performances and a Q&A session after the film. 
Performances (including hip hop carolers and more) begin at 6 p.m., the documentary begins at 7 p.m. and the Q&A session begins immediately after the screening.
Tickets are free, but you need a ticket! Come join us at the premiere! Register here.
---
This screening is made possible through the generosity of our sponsors: The Greater Columbus Arts Council, Lbrands, The City of Columbus – Andrew J. Ginther, Mayor, Nationwide, Franklin County – Where Government Works, Crane Group, Cardinal Health, Dispatch Media Group, Lamar Outdoor Advertising and Art Makes Columbus/Columbus Makes Art.