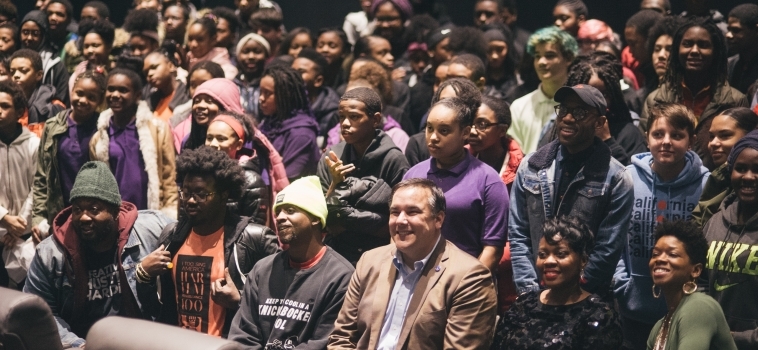 "You don't have to go to Harlem to be an artist."
By Hailey Stangebye
Photos by Trey Barkett
On Valentines Day, our documentary, "My Great Day in Harlem" returned to the Gateway Film Center as part of a special screening for nearly 200 kids from Columbus City Schools. After the film, Mayor Andrew Ginther addressed the theatre. Then, the audience engaged in a thoughtful Q&A session with the stars of the documentary.
This screening, orchestrated by the Columbus Department of Neighborhoods, was so much more than a movie. It was an opportunity for young minds to be inspired by local legends. These students spoke with relatable role models who created an honest dialogue about achieving their aspirations.
The goal was to show by example that Columbus fosters a level of creative excellence that welcomes all forms of expression.
"Art is so important because it gives us a chance to share our experiences, our walks and our journeys. It also gives us a chance to expose ourselves to things different than us. Things that maybe we wouldn't necessarily have as much in common with," Ginther said. "I hope that you've had a great morning being able to enjoy and reflect on 'My Great Day in Harlem.' It is art and culture and the incredible artists in our community that help make our community so special. And I hope that your opportunity to see and hear from some of the great artists in our community is a way to celebrate what makes Columbus so exceptional."
When students were given the chance to ask questions of the artists and the film makers, hands shot up in the air. Below, are just a few of those questions and their respective answers.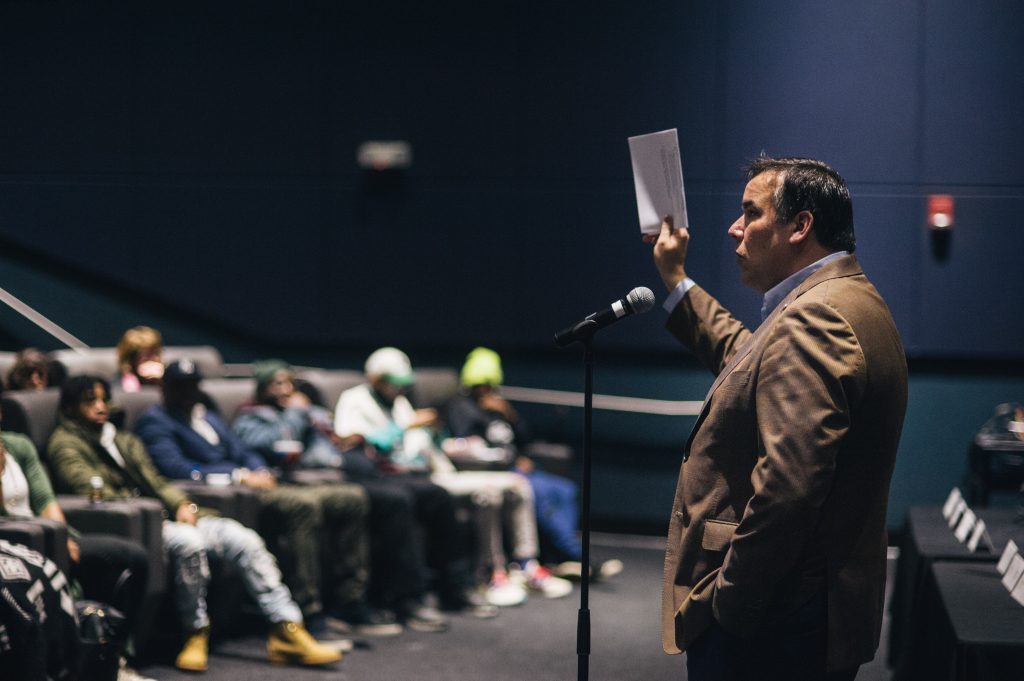 ---
Q: For Jay Swifa, what was your hardest time as a musician?
A: "That a great question. Probably around your age is when I got serious. I was lucky enough to have parents who were in the arts. My mother is a dancer and my dad is also a musician. One thing I will urge everybody here to do — I don't know if everybody is interested in making music — but there were always people around me who made music. And I would bug everybody, like, 'Teach me how to make beats. Teach me how to rap.' So, this was at age 11 or age 12. I've had many bumps and bruises in my music career. One of my hardest times was when I was in a very popular group and we actually broke up. I had to figure out what I was trying to do with myself before I started to make music again. Once I figured out my goals and where I wanted to go in my mind and talked to people around me, it started to become more clear. It's always good to talk to people when you go through your rough spots, your down times. Don't be afraid to talk to anybody. I opened myself up, which let me make better music."
Q: For Samara Tillman, when did you feel like you were going to get really serious with fashion?
A: "I was in 6th grade, and I wanted to be a part of our — we couldn't call it a cheer team — but I called it a 'spirit team.' And my mother was always about presentation. Every time she went out of the house she was very well put together. So, from there, she was like, 'If you're going to do this, then you're going to do it right.' So I was like, 'Well I'm going to go ahead and design our spirit team outfits.' So I designed it, and she made it. It got a very good response from teachers and all that. So I was like, 'Oh, maybe I'm on to something.' Then, in 9th grade, I always wanted to be different. So I asked my mom to make me an outfit for my first day of high school. That got a good response. So it was really when I was 11 when I knew that I had a gift for it. I didn't really learn the art of sewing until I got to college, and I was making outfits for my college friends — crazy, fur, feathers, denim. They wore it because they love me. So pick your friends wisely. Pick those who encourage you to keep creating."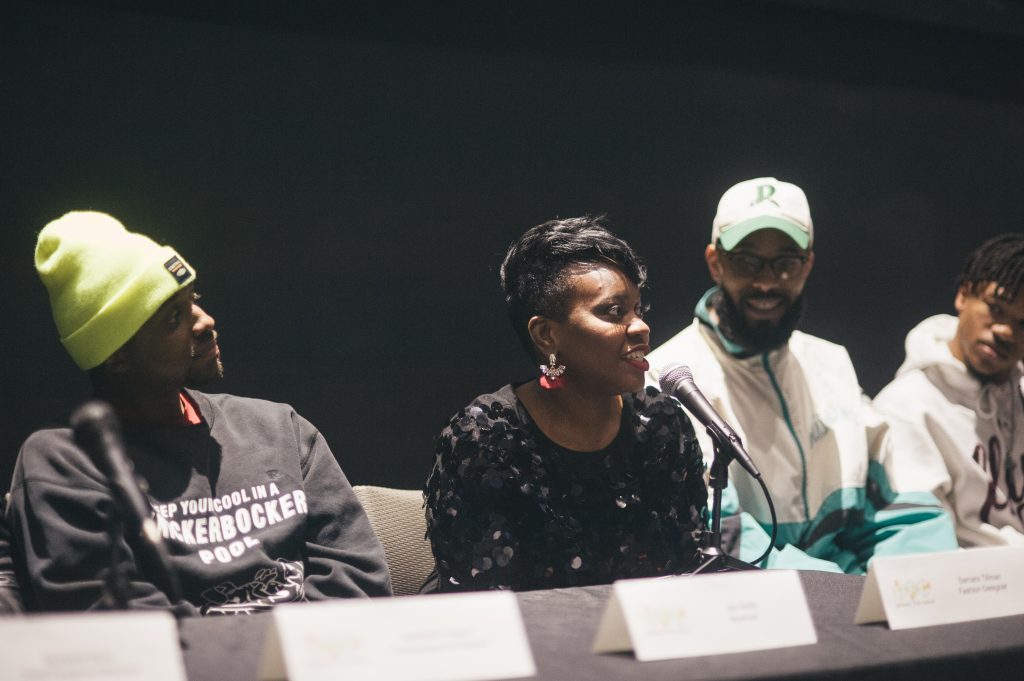 Q: For Tripp Fontane, what inspired you to start rapping?
A: "It wasn't a rapper. I don't know if you all are old enough to have heard of him, but I actually started rapping because of 'Weird Al' Yankovic.' Rap is actually not what made me fall in love with music. My dad who is like 66, so I fell in love with funk music and soul music. He's a musician also. So I always gravitated toward live instrumentation, as opposed to rap. But, at like 7, he came out with three songs in a row and they were all hits. He came out with 'Eat It,' 'I'm Fat' and 'Amish Paradise.' And the music that he made was a funny version of a real song. And that inspired me to pick up a pen. I was like, 'Bro, he's taking my favorite songs and making funnier songs from it. I feel like I can do that.' So, at 7 years old, I started writing music because of 'Weird Al.'"
Q: For Lori Linsey, have you ever wanted to quit dancing?
A: As a matter of fact, I did quit dancing. My story is this. I started dancing when I was about 3 or 4 years old. I started off with ballet. By the time I got to middle school I was doing more tap and jazz. And I actually overheard someone make a comment about me that was not very nice. I did not even know this person. But what I did, at a young age and without knowing, is I took that person's opinion of me and I made it my own. That person said that I shouldn't be on stage, that nobody wants to see me, I don't look the part. All of these really really negative things. And I stopped dancing at that point in time. I am so grateful that I've come beyond that. I started dancing again, and it's something that I absolutely love. Any other dancer can say that when you dance nothing else matters. Nothing else matters. I feel free when I dance. I feel beautiful when I dance. I feel that I am as close to God as I can be on this earth when I dance. Nothing else matters when I move. So, if you are a dancer and you love dance and you have that similar feeling, then you cannot stop. I don't care if you're just dancing in your bedroom in front of your mirror. Do not stop dancing."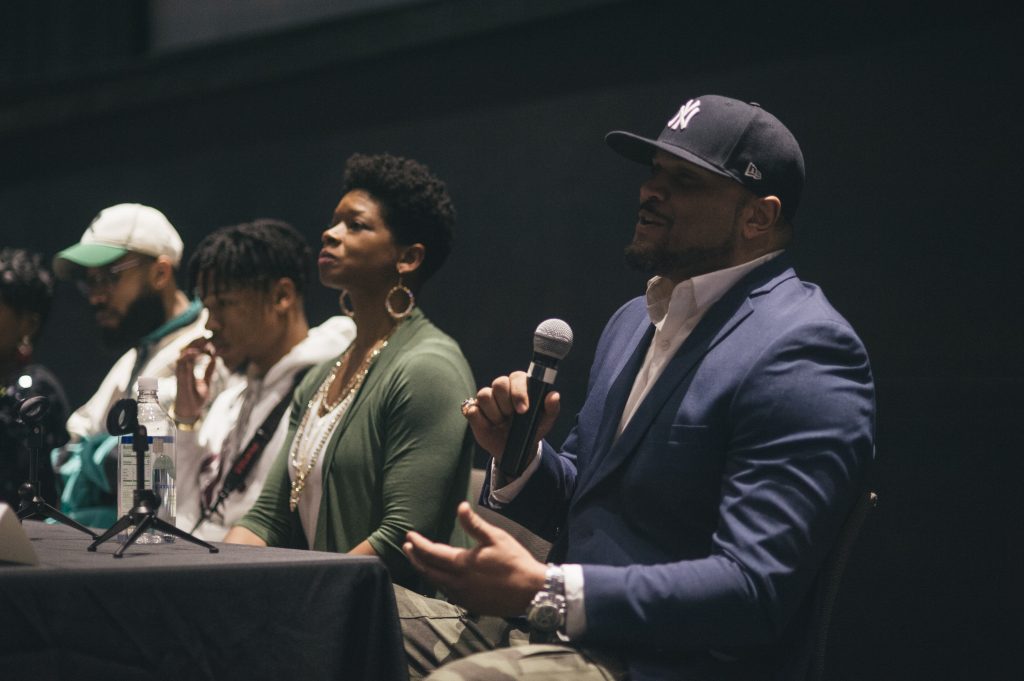 Q: For Percy King, what is your advice for a young creative?
A: "I think, for me, what I always tell people is to get out and explore the world around you. Expose yourself to as much as possible. Expose yourself to as many musical forms as possible. As many artistic forms as possible. As many books as possible. Because you may not like everything that you see, but you might find the one thing that you're passionate about. Or you might combine two things and create your own lane and become passionate about that. I think one of the things that I used to be intimidated by when it came to famous musicians and artists was that these people were like gods. They were bigger than life. They had some magical talent where they just didn't care what they did — they went into the studio at 2 or 3 in the morning because they had great work ethic. And they do, and I give them credit for it. But what I also always tell people is that, once you find something that you're passionate about, the amount of time that you put into it doesn't matter. You'll go in at 2 or 3 in the morning because you want to. You don't even have to make yourself do it. So when you look at successful people, and you look at the amount of time they put in, and you see all these books that say 'the seven laws of success' or 'get rich this way,' remember that, at the end of the day, those people found something that they were passionate about. And that's what they did. So that's my advice."
---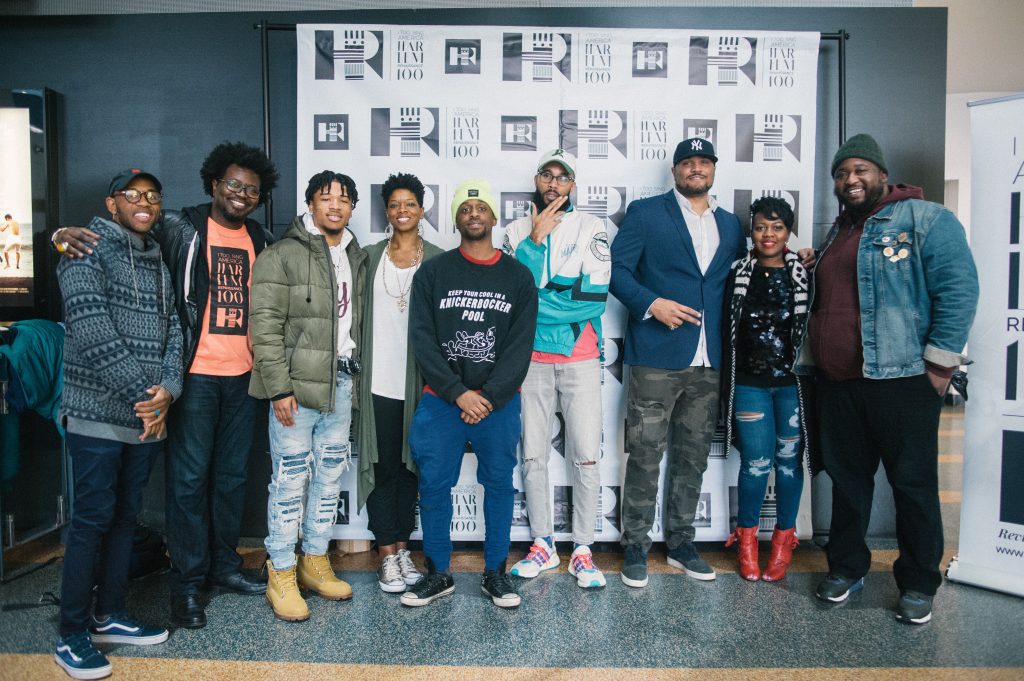 Out of all of the phenomenal questions and answers, one theme remained consistent: get stared now, and get started here. With the technology and resources available in Columbus today, there's no reason to wait to pursue your passion.
"What we really want you to know is that this is all within your grasp," Marshall Shorts, a creative and a core member of the Harlem Renaissance team, said. "You don't have to go to Harlem to be an artist, or to make something happen for yourself. Whatever it is that you want to do, you can do that right here. And you have the ability. These folks weren't old when they were making this art. Some of them were close to your age. So, keep that in mind as you express how you feel. Art was just their way of expressing what was going on around them. You have the opportunity to do that with what you do as well."